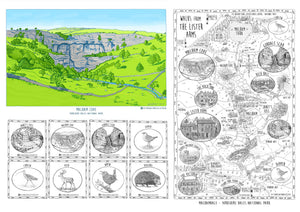 Stephen Waterhouse
Stephen has lived near Malham for the last 7 years and is inspired by the local landscape and wildlife.

His drawing of Malham Cove was done live on location and then the colour was added digitally back in his studio. This is available as a Limited Edition canvas and also as a tea towel.

Stephen's Malhamdale Map was created during the pandemic lockdowns, which gave him a chance to work locally on an idea he had been developing for a few years. He wanted to draw a map or view from above of all the different local walks and scenes that he and his wife have explored with their dog Ruby. It took a few months to create and was very well received by the local community.