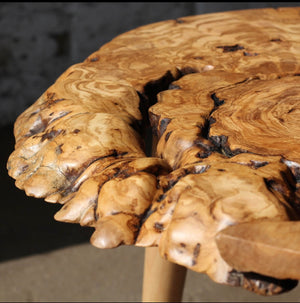 Making Waves Woodwork
Handmade, Quality, One of a Kind pieces of wooden furniture created by Yorkshire Carpenter James Banham.
James creates high quality, handmade furniture from his workshop in Halifax, West Yorkshire. James started making furniture in 2017.

For his first piece, James made a tv stand from old beams he found behind his Dad's shed. When he was bringing his creation into the house, his neighbour saw it and commissioned a coffee table from the left over beams.

Since that first comission, his business grew through word of mouth and he continues to produce all kinds of furniture for clients in and around Halifax.

James believes times are changing and people are seeking quality products from small independent businesses again - businesses run by honest, hard working people who do good things with their profits.

With every sale, James funds the planting of one tree through a global tree planting charity. He also donates 2% of his annual profits to UK Woodland charities, simply as a 'thank you' to nature for providing the materials to pursue his passion.